Cherry Dessert Recipes To Make Your Mouth Water
I am sharing some of my favorite Cherry recipes with you in this article.
Why? Well, just about every single man that I know loves a cherry pie or
some sort of dessert with cherries in it. I am thinking that possibly
that old adage that the way to a man's heart is through his stomach just
might have some real truth to it. Fix your man one of these cherry
desserts and watch him smile from ear to ear.
Since February is National Cherry Month and the month we celebrate
Valentines Day, I thought you might enjoy fixing a special recipe for
that special fella in your life.
Follow me as I share a cherry pudding recipe, cherry pie recipe, cherry
cobbler recipe, and a cherry cookie that is melt in your mouth
delicious!
Image Credit:
Cherry Pudding Recipe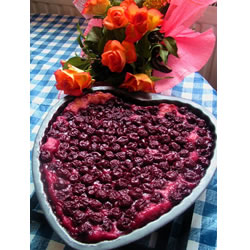 An easy to make cherry pudding made with sour cherries and then sweetened up with cherry juice. Bake it in a heart shaped pan for
Valentines Day or just to say you love him no matter what day it is.
Image Credit: TLOZEC photo at Allrecipes
Serves: 12
Prep Time: 15 minutes
Total Time: 1 hour
Ingredients
2 cups flour (all-purpose)
1/2 tsp salt
2 tsp baking powder
1 cup white sugar
1/2 cup butter (2 sticks)
1 cup milk
1 tsp vanilla extract
4 cups sour cherries (pitted)
1/2 c white sugar
1 1/4 cups cherry juice (water can be a substitue)
Instructions
Preheat your oven to 375 degrees F. Grease a 10×10 inch baking dish or a heart pan.
Combine the flour, salt, baking powder and 1 cup of the sugar in a large bowl. Stir until mixed well. Add the
butter, milk and vanilla to the dry mixture. Beat with an electric mixer for about 2 minutes or until it is smooth. Pour the mixture into your
pan and cover evenly with the cherries.
Heat the cherry juice in a small saucepan to simmering. Sprinkle 1/2 cup of sugar over the cherries in your baking
dish. Pour the hot cherry juice on top.
Bake for 40 to 45 minutes or until a toothpick comes out clean from the center.
A Wonderful Cookbook with Cherry Recipes


Lifes Little Cherry Cookbook: 101 Cherry Recipes
February Is National Cherry Month
These cherry recipes are perfect to make during the month of February since it is National Cherry Month here in the United States. Although, I
have to tell you, my husband loves them all year round.
I wonder if the month was chosen to celebrate cherries because of the old tale that George Washington cut down a cherry tree and then could
not lie about it to his father? February is the month of his birthday, so it makes some sense.
Then again, most men love cherries and with February being when Valentines Day is celebrated…cherries fit there too.
And with the thought of Valentines Day and the color red being associated with that day…cherries are red.
Cherry Pie
a traditional recipe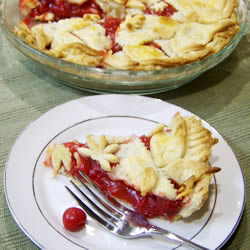 As I said in my introduction, I can not think of any man who does not love cherry pie. So, here is a tried and true cherry pie
recipe to delight him with.
Image Credit: The creative picture of this cherry pie recipe was taken by LauraLye and made available at Allrecipes
Serves: 8
Prep Time: 20 minutes
Total Time: 1 hour 15 minutes
Ingredients
PASTRY:
1 1/2 cups all purpose flour
1/2 tsp salt
1/2 cup shortening
1/4 cup water
FILLING:
2 (16 oz) cans tart cherries
1 cup sugar
3 tblsp quick cooking tapioca
1/4 tsp almond extract
1/4 tsp salt
red food coloring
1 tblsp butter or margarine
Instructions
Preheat oven to 375 degrees F
Pastry Crust:
Combine flour and salt in a large bowl. Cut in the shortening until the mixture is crumbly. Slowly add the water. Toss with a fork until the dough forms a ball. Divide your dough
in half. Roll out one half to fit a 9 inch pie plate for your bottom
crust.
Filling:
Drain the canned cherries. Reserve 1/4 cup of the juice. Mix the cherries, juice, sugar, tapioca, almond extract,
salt and food coloring together with a large spoon. Pour this mixture onto your crust in the pie pan. Dot with butter or margarine. Roll your
2nd half of dough out and make a lattice crust for the top of your pie.
Bake at 375 degrees F for 55 to 60 minutes.
Cookbook features a variety of cherry recipes


Very Cherry Cookbook
Recipe For Cherry Cobbler
This cherry cobbler recipe is so easy to make and is really so delicious. Serve it up warm with ice cream or whipped cream.
Serves: 8
Prep Time: 15 minutes
Total Time: 1 hour
Ingredients
3 tblsp butter (melted)
1 cup all purpose flour
1/4 tsp salt
1 tsp baking powder
1/2 cup milk
1 cup sugar
1 tblsp cornstarch
1 cup boiling water
3 1/2 cups fresh cherries (pitted)
3/4 cup sugar
Instructions
Preheat oven to 350 degrees F
In a large bowl mix 3/4 cup sugar, butter , flour, salt, baking powder, and milk together. You will have a dough like mixture.
Pour cherries in to the bottom of a 9 inch square pan (or 9 by 13 in works). Drop the dough mixture by large
spoonfuls on top of the cherries.
Combine the 1 cup of sugar and cornstarch
in small bowl. Stir in the boiling water until the sugar and cornstarch are dissolved. Pour this mixture over the cherries and dough already in
the pan.
Bake at 305 degrees F for about 45 minutes.
Cherry Cookies With Vanilla Chips
melt in your mouth yummy!
Oh these cookies are just so chewy and yummy! The vanilla chips add a nice contrast with the cherries. I have substituted
chocolate chips at times when I had a difficult time finding the vanilla chips…the chocolate and cherries are pretty good too!
Serves: 27 cookies
Prep Time: 15 minutes
Total Time: 25 minutes
Ingredients
1 cup butter (softened)
3/4 cup sugar
3/4 cup packed brown sugar
2 eggs
1/4 tsp almond extract
2 1/4 cups all purpose flour
1 tsp baking soda
1/2 tsp salt
1 (12 oz) package vanilla chips
1 (10 oz) jar maraschino cherries – drained and chopped
Instructions
Preheat oven to 350 degrees F.
Cream butter and sugars in a large mixing bowl. Add one egg at a time beating well after each addition. Beat in
the almond extract.
In a separate bowl combine the dry ingredients: flour, baking soda and salt. Gradually add this to the
creamed mixture. Fold in chips and cherries.
Drop rounded spoonfuls (tablespoon works best) about 2 inches apart onto an un-greased baking sheet.
Bake at 350 degrees F for about 10 to 12 minutes or until the cookies are lightly browned. Remove cookies to a
wire rack to cool.
I hope you have enjoyed these cherry recipes and that you will give
one or two of them a try. I think the man in your life will love any and
all of them. Do you have a cherry recipe that I didn't mention? Let me
know about it or just say Hi and that you stopped by.
Featured Image of Bowl of Cherries: Free image from Pixabay
(Visited 164 times, 1 visits today)