Sometimes the best thing about the summer and summer holidays is that you can go to all of the celebrations just wearing a t-shirt, shorts and flip-flops. T-shirts are the uniform of the summertime, when kids are out of school and adults are enjoying the warm weather and informality of it all. In that vein, here are some great (and cheap) patriotic tees for July 4th for you to wear as you eat your all-American picnic foods and watch the fireworks. All of these t-shirts are available in more than one color, in sizes for men, women and kids. To see the sizes and measurements, just click through the links below. So pick up a patriotic tee or two this year to add to your summer wear collection. Show off your American pride and patriotism.
Indivisible with Liberty and Justice for All T-Shirt
This new t-shirt is a bold declaration of the Pledge of Allegiance that we all learned in grade school. Featuring the statue of Liberty, the American flag and the words "Indivisible with liberty and justice for all." The shirt comes in several colors in men's, women's and youth/kid sizes. Click below to see the options.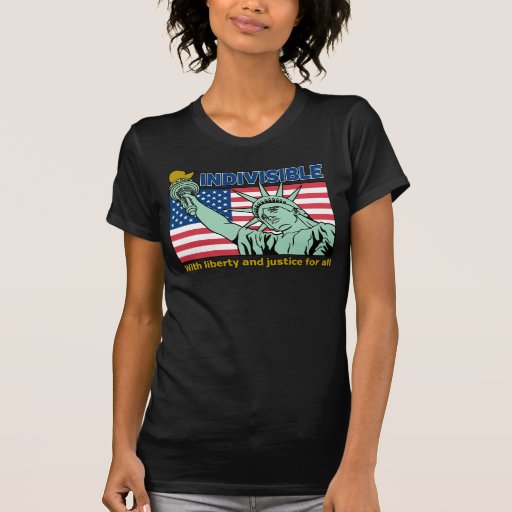 Patriotic-Indivisible-Liberty & Justice for All T-Shirt

Ohio Grunge Red White Blue Patriotic American T-Shirt
This one is a grunge image of Ohio in red, white and blue showing the colors and stars from Ohio's state flag. Also in several colors, this shirt can be purchased in men's, women's and youth/kid sizes. Show off your home state! Click through for measurements and colors.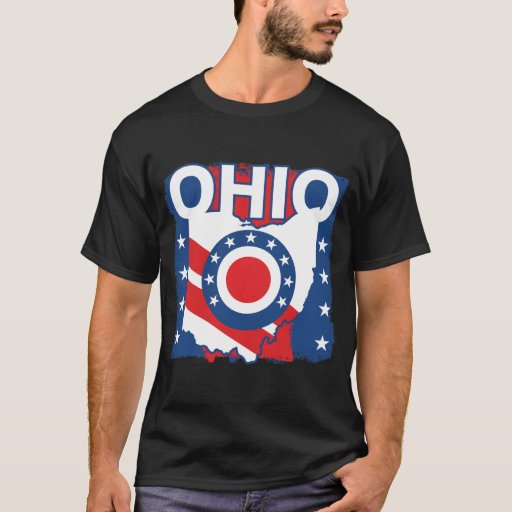 Red White and Blue Patriotic Grunge Ohio T-Shirt

Cleveland Ohio July 4th Flag Red White Blue T-Shirt
Do you love the city you live in? Why not let your friends and family know? This t-shirt features the state flag from Ohio with a banner across the bottom with "Ohio" in big bold letters. Across the top you can see the name of the city in Ohio, "Cleveland," featured. This looks great on white, but you can also choose other colors in men's, women's and youth/kids' sizes.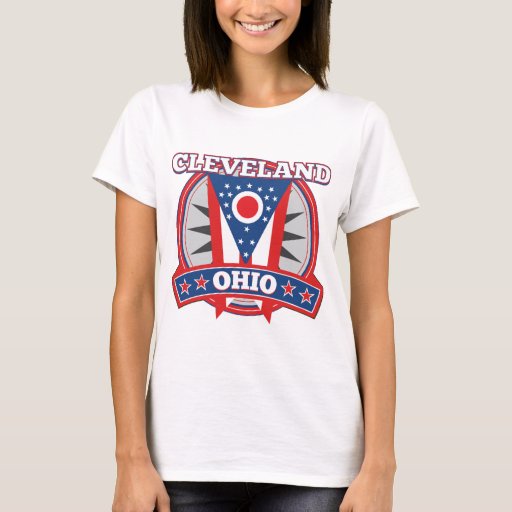 Cleveland Ohio Red White Blue Patriotic State Flag T-Shirt

Ohio Flag Words Art Patriotic American Red White Blue T-Shirt
Although shown here in brown, this t-shirt looks best on black since it shows off the contrast with the print the best. Featuring the Ohio state flag in the center, this shirt's design is completely made up of words and numbers that relate to the state of Ohio and its geography and history. Great shirt for kids to learn about the state of Ohio.
Ohio Flag Words Art Patriotic American Red White Blue TShirt
Red White and Blue 100% American Flag
Are you 100% red, white and blue? This shirt features the colors of the American flag with the flag itself in the upper corner and "100%" in the lower right corner. Keep cool in this American celebration shirt on July 4th or year round in several colors. Click the link to find out more about sizing and measurements.
Red White and Blue 100% American Flag
Land of the Free Because of the Brave
Show your support for our brave men and women who have fought for our country throughout our history by wearing this tee. It says, "Land of the Free Because of the Brave" with an American flag in the center. Simple, yet evocative statement to support our troops and the men and women who have stood up for what they believe in.
Land Of The Free Because Of The Brave T-Shirt
We the People Patriotic Tee
This terrific t-shirt boldly says, "USA," in letters with the Preamble to the United States Constitution in the background can go to any party this summer. Available in sizes for men, women and youth/kids, the shirt is comfortable and shows patriotism without anything else distracting from it. Perfect for children and adults, this shirt will last the entire summer. Click through to see the options for buying.
Patriotic 4th of July T-Shirts for All Sizes
It is difficult to display all of the shirts available to wear to patriotic events this summer on one page. There are so many options to wear in an array of colors and sizes. You can support your favorite patriotic causes with t-shirts or donate to a cause by buying one. Get shirts in bulk for your family reunion and wear them as a team. Here are some more ideas for patriotic tees to wear on the 4th of July.
 United States of America Flag T-shirt
 My Rights Don't End Where Your Feelings Begin T-Shirt
 American Flag Pig Shirt
 Proud American Nana Flag USA T-Shirt
 Patriotic Kitten Adult T-Shirt
 Tie Dye T-Shirt
 Mommy's little Firecracker Kids Tee
 Toddler and Youth Flag Tshirt
 American Heart Flag USA Flag
 4th of July USA Vintage
 Women's American Flag Baseball
Red, White and Blue July 4th Patriotic T-Shirts from Zazzle
Zazzle offers apparel that you can personalize by adding a name, date or message. You can also start from scratch and create your own shirts. These red, white and blue shirts are all in a vintage style which you can add your personalization to. Click any link to see more information.
 Vintage Patriotic Screaming Eagle USA Flag Arrows T-Shirt

 Vintage Patriotic American Flag Waving in the Wind T-shirt

 Vintage Patriotic American Flag Waving in the Wind T-Shirt

 Vintage Faded American Flag State Names Words Art Toddler T-shirt

 Vintage Patriotic American Flag Waving in the Wind Baby Bodysuit

 Vintage Faded American Flag State Names Words Art T-Shirt

 Vintage Faded American Flag State Names Words Art Tank Top

 Vintage Faded American Flag State Names Words Art T-Shirt

 Vintage Patriotic Screaming Eagle USA Flag Arrows Baby Bodysuit

 Vintage Faded American Flag State Names Words Art Sleeveless Shirt

 Vintage Patriotic Screaming Eagle USA Flag Arrows Baby T-Shirt

 Vintage Shield Red White Blue American Eagle Stars Baby Bodysuit

 Independence Day July 4th Vintage Shield w/Stars T-Shirt

 Independence Day July 4th Vintage Shield w/Stars T-Shirt

 Independence Day July 4th Vintage Shield w/Stars T-Shirt

 Independence Day July 4th Vintage Shield w/Stars Baby T-Shirt

 Blue & White Vintage American Flags w/Shining Star T-Shirt

 Blue & White Vintage American Flags w/Shining Star T-Shirt

 Blue & White Vintage American Flags w/Shining Star T-Shirt

 Blue & White Vintage American Flags w/Shining Star Baby Bodysuit

 Blue & White Vintage American Flags w/Shining Star T-Shirt

 Blue & White Vintage American Flags w/Shining Star T-Shirt

 Vintage Shield Red White Blue American Eagle Stars T-Shirt

 Vintage Shield Red White Blue American Eagle Stars T-Shirt

 Vintage Faded American Flag State Names Words Art Maternity T-Shirt

 Vintage Shield Red White Blue American Eagle Stars T-Shirt

(Visited 197 times, 1 visits today)