Get set to celebrate Easter with these fantastic Easter wreaths and cute Easter Egg Trees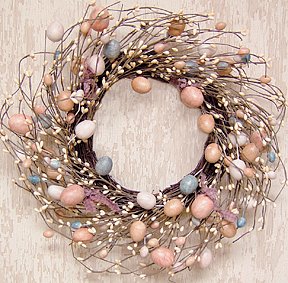 You will want to decorate your home this Easter and to help you do that, this page features a selection of pretty Easter wreaths and Easter Egg Trees. Here you will find wreaths you can either hang or a door, window or wall or you can use them as center pieces on your Easter table. Why not add a pretty bowl in the center and fill it with eggs or candy?
Easter egg trees are a tradition that hales from Eastern Europe. Using eggs as decoration in Spring represents all the new life and new birth taking part in the world so it is no accident these trees are taken as blessings to honor rebirth and renewal. If you would like to create your own tradition, why not make your own, perhaps with a special hanging egg decoration for each member present?
There is plenty here for you to browse through and if you are creative, there are even some videos so you can make your very own Easter wreath and Easter egg tree.
Featured here: Wreath Eggs and Pips 16″ Easter Decorations
Some of the Easter Decorations you will enjoy on this page
 Wreath – 16″Check Price Hanging Heart-Shaped Wreath – Purple – LavenderCheck Price Nifty Easter Egg CarouselCheck Price Enesco Jim Shore Heartwood Creek Easter Tree with 5 Ornaments Figurine, 12.5-InchCheck Price
Easter Egg Wreaths
Glitter Easter Egg Wreath
This pretty Easter wreath measures 15 inch in diameter. Can be hung on a door or wall or used as a center piece on your Easter table.
 Easter Egg Wreath – 15Check Price
Easter Wreaths with Eggs, Flowers, Grasses and Vines
 20Check Price Miles Kimball Easter Egg And Daisy WreathCheck Price Nearly Natural 4783 Cherry Blossom Wreath, 24-Inch, PinkCheck Price Spring Easter Egg Door WreathCheck Price
Easter door wreaths
How pretty is this wreath with lots of pink tones? It measures around 20 inches is fine for hanging on inside doors. I'm not sure I would risk putting it on an outside door in the wet.
This wreath is really a reminder that spring is in the air.
 Nearly Natural 4798 Succulent Wreath, 20-Inch, GreenCheck Price
 Pastel Egg Wreath – Easter Egg Door DecorationCheck Price
Twigs, Eggs & Pips make up this rustic Easter Door Wreath
I love the modern look of this pretty Easter wreath. It is made up of cute twigs with pastel colored eggs. It is only 3.5 inches in diameter. Little accents are edited with ivory pip berries and bows. I think this will really impress the neighbors.
 CWI Gifts Burlap Eggs and Pips Ring, 3.5-InchCheck Price
How to make an Easter wreath
Great Floral Wreaths for Easter and Spring
Melrose International Colorful Daisy Garden Artificial Wreath
Spring is the time when all start thinking about Spring flowers and it is celebrated with this cute wreath. If you click on the link you will see everything they use to create this one of a kind door wreath.
 Melrose International Colorful Daisy Garden Artificial Wreath in Shades of Peach, Orange and Greens, 22-InchCheck Price
Floral Spring Wreaths for Easter Decor
 20Check Price Melrose International 20-Inch Diameter Summer Garden Trumpet WreathCheck Price Yellow Forsythia and Twig All Weather Spring Door WreathCheck Price Spring Magnolia WreathCheck Price
Cute Easter Bunny Door Wreaths
 Easter / Spring Bunny Rabbit & Egg Door or Wall Wreath, 21 Inches X 18 Inches, with Vines and ForsythiaCheck Price Whimsical Country Grapevine Twigs Decorative 25Check Price
Mesh Easter Wreaths
 Deco Mesh Easter WreathCheck Price
How to make an Easter tree – 2 easy how to videos
Easter Egg Tree – Centerpiece Decoration
Decorative Easter Trees
An Easter egg tree is thought to symbolize rebirth and renewal and the tradition has come to America from Eastern Europe.
 18Check Price Craft Outlet Papier Mache Egg Flower with Pot Figurine, 18-InchCheck Price Enesco Jim Shore Heartwood Creek Easter Tree with 5 Ornaments Figurine, 12.5-InchCheck Price Department 56 Lighted Christmas Bare Branch TreeCheck Price
(Visited 458 times, 1 visits today)