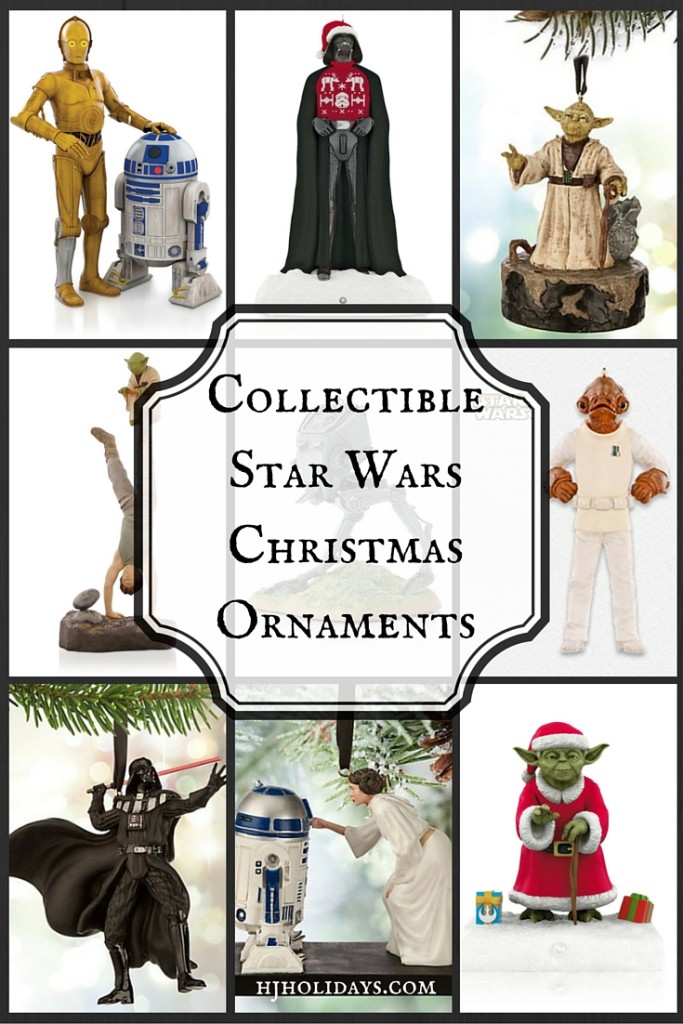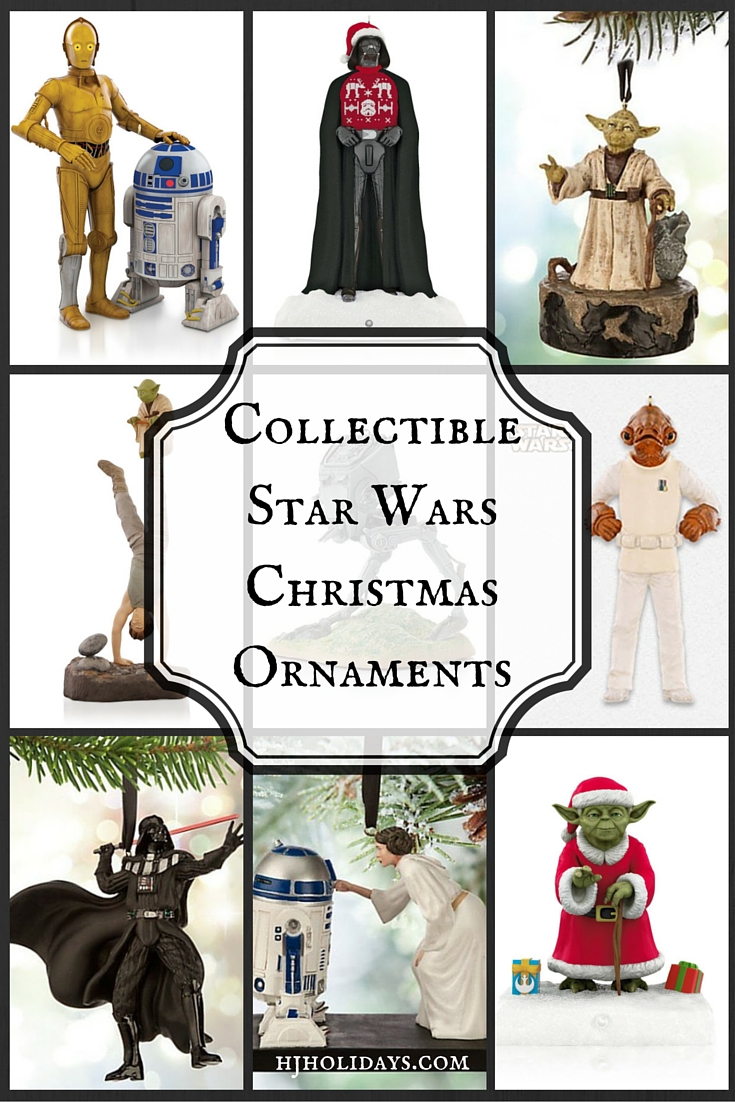 Star Wars is one of those epic movie series that never becomes outdated but withstands the test of time. In fact, Star Wars is just as popular as it ever was, with yet another new movie in the saga set to be released this coming December. It's no surprise that with the new movie, Star Wars: Episode VII-The Force Awakens, coming out so near to Christmas time, that people have Star Wars topics on their minds. Aside from all of the cool toys and gifts with Star Wars themes available this holiday season, there is also another way to add a little Star Wars to your holiday with these great collectible Star Wars Christmas ornaments. Add your favorite characters to your tree and let the force be with you this holiday season. Here we look at some of the great collectible Star War Christmas ornament offerings available in 2015.
Star Wars – Holiday Darth Vader Ornament 2015
This year it looks as if even Darth Vader himself has caught a little of the Christmas spirit, at least the ornament in his likeness has. Darth is wearing his usual all black uniform, helmet, and cape, in addition to a colorful festive Santa hat and red and white holiday Christmas sweater. Ornament measures 3 inches by 4.8 inches by 1.9 inches. Features a motion sensor that will prompt the ornament to play a special Christmas message from Darth Vader. Requires batteries to function, which are included with the ornament.
Darth Vader Ornament 2015 Hallmark

A New Hope C-3PO And R2-D2 A Hallmark Keepsake Ornament
The great keepsake ornament featuring the art of Orville Wilson has our constantly bickering, yet best of buddies, droid friends R2-D2 and C-3PO featured on it. Ornament is pre-boxed, making it perfect for gift giving, collecting, or storing after the holidays. This is the nineteenth installment in the collectible Star Wars Christmas ornaments keepsake series, and is a perfect gift for both fans of the original movie or those who are eagerly awaiting the brand new film. Ornament is dated 2015 and is available only for a limited time.
Star Wars: A New Hope C-3PO and R2-D2

Return Of The Jedi – Admiral Ackbar Ornament 2015
Add Admiral Ackbar to your holiday tree this year. He is dressed in his all white uniform and ready to hang out with all the other Star Wars holiday ornaments. Measures 2 inches by 4.5 inches by 1 inch. Makes a fun addition to any collectible Star Wars Christmas ornaments collection.
Admiral Ackbar Ornament 2015 Hallmark

Star Wars Photo Frame Ornament 2015
This is a photo Christmas tree ornament that also keeps with the Star Wars theme. Features a green square border frame with the characters of Luke and Yoda in the bottom corners. Above the photo area is a banner that reads "Jedi In Training", perfect for displaying a photo of a special child. Photo area measures 1.5 inches by 1.8 inches. Great idea for incorporating a young Star Wars fan into the theme of collectible ornaments.
Star Wars Photo Frame Ornament 2015

The Empire Strikes Back "There is No Try": Yoda and Luke Skywalker Ornament 2015
This is a great collectible ornament that plays dialogue from a classic scene from The Empire Strikes Back movie. Requires batteries, which are included with the ornament. Measures 2.25 inches by 5.625 inches by 2 inches. Ornament depicts a scene of Luke standing on his hands on a rock with Yoda resting on one of his feet. Makes a great collectible Star Wars ornament for die hard fans of the movie saga and for new fans alike.
There Is No Try Luke Skywalker 2015

2015 Sketchbook Star Wars Yoda Talking Ornament
This is a fully sculpted resin ornament that measures 4 inches by 2.5 inches. When you press the button near the base, Yoda will speak. Ornament hangs from a black satin ribbon. Uses three LR44 batteries that are included with the ornament. Makes the perfect addition to any collectible Star Wars Christmas ornaments collection.
Yoda Talking Sketchbook Ornament

2015 Sketchbook Star Wars: Darth Vader
This is a fully sculpted ornament made from resin and plastic. Measures 5 inches high from bottom of Darth's foot to the tip of the light saber, by 5.5 inches wide by 3.5 inches in diameter. Ornament depicts Darth Vader caught in mid action, with his cape billowing backwards in the breeze and his hand drawn behind him while he is wielding a red light saber. Comes with a satin black ribbon for hanging.
Darth Vader Sketchbook Ornament

Star Wars Rebels Zeb Orrelios Hallmark Keepsake Ornament
This collectible ornament is crafted by artist Robert Hurlburt. Let Lasat honor guard Zeb Orrelios protect your Christmas tree this year and keep it safe from the Stormtroopers (better hang them on the other side where Zeb can't see them). Zeb stands with his weapon in hand, ready to be of service to you. Ornament measures 4.5 inches by 2.5 inches by 1.8 inches. Dated 2015, ornament comes pre-boxed to make it perfect for gift giving or storing.
Sketchbook Star Wars: Princess Leia With R2-D2 Ornament
This ornament can either be hung on the tree or displayed as a freestanding decoration due to its flat base. Features Princess Leia leaning down to talk to R2-D2. Measures 3 1/4 inches high by 3.5 inches wide by 1 3/4 inches in diameter. Fully sculpted ornament is made from resin and comes with a black ribbon of satin for hanging. Comes in a box perfect for gift giving or for storage after the holidays.
2014 Keepsake Star Wars Yoda Peekbuster Ornament
While this ornament is actually from 2014, no one who loves Star Wars should miss this gem among the collectible Star War Christmas ornaments. Featuring little Yoda in a Santa Claus robe and hat, this ornament is motion activated and Yoda will dispense words of wisdom to those he catches trying to sneak a peek at what's under the Christmas tree. Super cute ornament is a must have for any collector of Star Wars memorabilia, or really just for anyone who loves Christmas and appreciates a sense of humor. Be sure to get this little guy while he is still available.
Yoda Peekbuster – Star Wars – 2014

More Star Wars Christmas Ornaments
The list above is just the beginning of the numerous wonderful Star Wars Christmas ornaments available. Here are some more which you can see larger by clicking the link. Don't forget to check out the ornaments for "Episode VII: The Force Awakens."
 Darth Vader

 Y-Wing Starfighter

 Boba Fett

 Yoda Lego 2013

 Sandcrawler 2014

 Star Wars Yoda

 The Rise of Lord Vader

 Storm Trooper

 General Grievous 2012

 All Terrain Scout 2013

 Luke Skywalker

 2014 Scout Trooper

 Santa Darth Vader

 R2D2

 Anaheim Exclusive

(Visited 637 times, 1 visits today)