Put together a Master Tigress costume
Why, oh why, isn't there a costume for Master Tigress from Kung Fu Panda? Seriously, what little girl wouldn't want to dress as such a powerful creature.
So here we go. Let's see if we can't create our own Tigress costume based on the drawings in Kung Fu Panda. We have two parts to figure out – the tiger and the outfit. Hopefully we'll end up happier than Tigress looks in most of her pictures!
Off we go.
---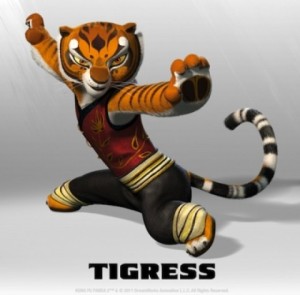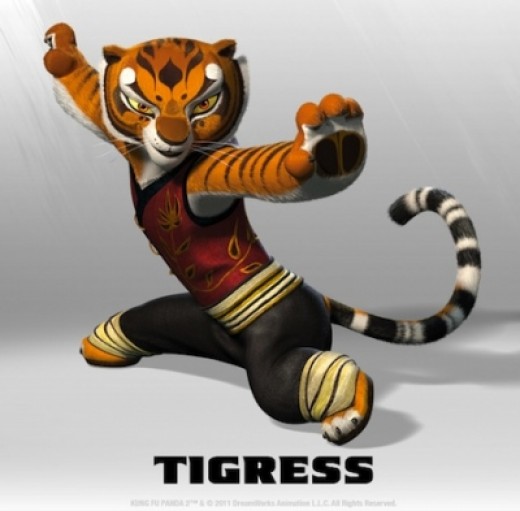 Master Tigress Outfit
This seems fairly simple, and it is in theory. The pieces are pretty clear, but some of them aren't that easy to find in all sizes. Darn it! So, what do we need?
red/burgundy vest with black trim
black kung fu pants
cream/white/black belt
cream/white/black socks
Now, pants are pretty simple to find in all sizes, as it turns out. But the vest or top proved a challenge in girl's sizes. So not only did I find some options you can buy, I also tracked down a few means to make some of the items. Red mandarin tops are a good place to start your search as well as scrubs-style shirts. I found several of those that had black trim on them.
If you have trouble finding a vest, consider a tank top, body suit or a vest in a different color. You can add the gold embroidery with fabric paint or just leave it off. Some of the drawings and toys of Tigress have her in a solid red vest or a silver top.

Capezio Girls' Classic Leotard

Tahari Sleeveless Pleated Mandarin Blouse

Cherokee Mini Mock Wrap Scrub Top

Cherokee Mock Wrap Knit Panel Top
---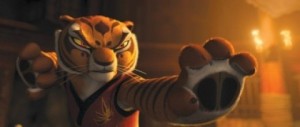 Master Tigress Costume – Tiger Parts
This part is a little bit easier than the outfit. You can go full out with a tiger costume or just add a few tiger elements like the ears and tail. Go with a full tiger mask, a small tiger nose or just face paint. Whatever it takes to make you a tiger.
I found lots of options that will give you the ears and tail and lots of full tiger costumes. There are some full masks out there, but they tend to be made of plastic, which wouldn't be fun for long so I haven't included them.
If you do go with some style of full tiger outfit, you might consider buying the top and pants in bigger sizes to get them over the costume. (And keep in mind the super warm factor of so many layers!)
Tigress runs around barefooted, probably not a realistic option for you. You could go with standard black kung fu shoes to complete the outfit (pair them with tiger socks or tiger patterned tights) or check out the tiger feet slippers I found.

Deluxe Gold Tiger Costume
At Costume Craze
I might consider just adding a red top to this one and skip the rest of the outfit.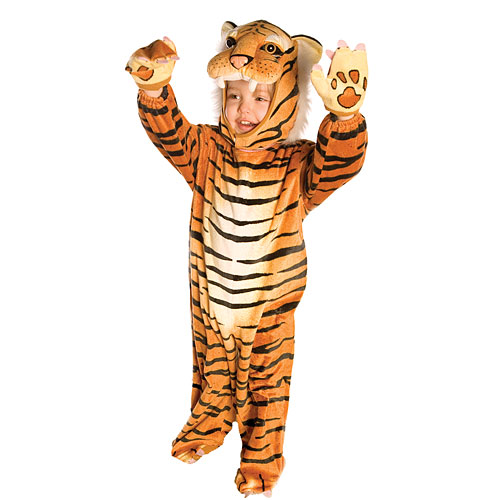 Underwraps Brown Tiger Costume
This one looks a little thinner, so you could probably get pants and a top on with it.

Tiger Costume for Kids
This one is great since it's only the top half.
No need to try to get pants over the legs of a tiger costume.

Tiger Ears and Tail Kit
At Birthday Express
Pair these with either the nose or the makeup for a complete tiger look

Jungle Tiger Nose
Great to pair with the ears and tail

Rubie's Costume Co Tiger Makeup
Yellow, orange and white in the pan to get you started
Black in crayon form to draw on the stripes
Great to pair with the ears and tail
(Visited 2,375 times, 1 visits today)