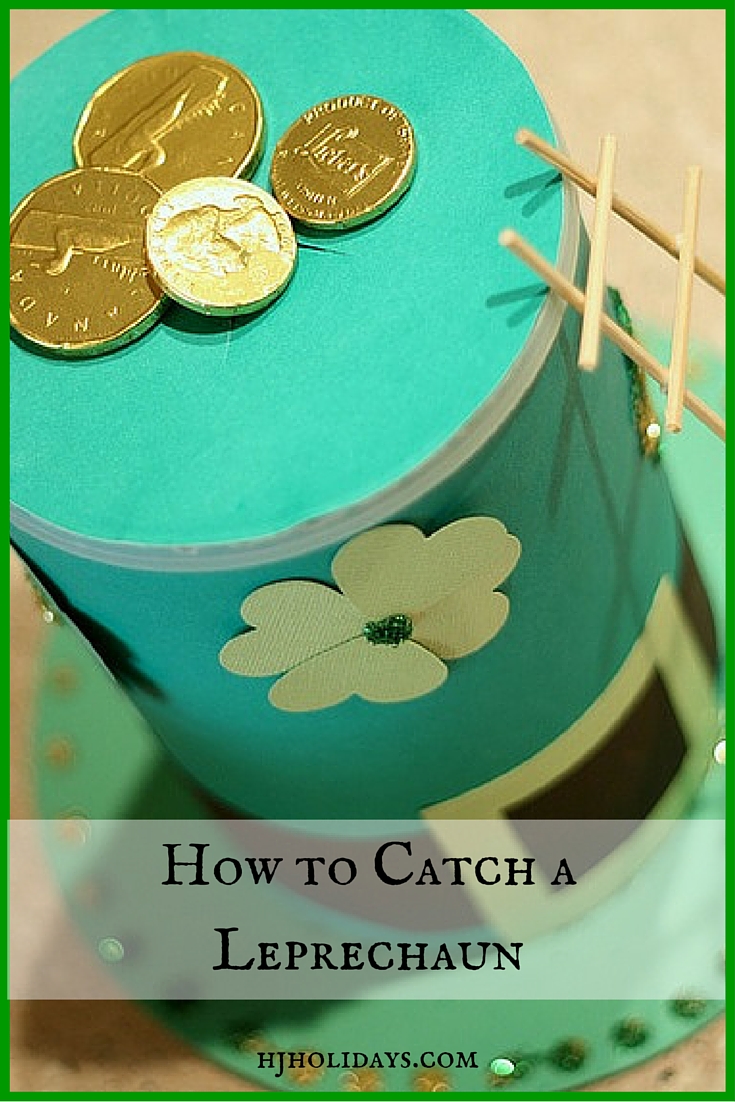 Leprechauns are very sneaky and mischievous creatures and they are very hard to catch. It can be very tough to outsmart them. However, with the right kind of trap, you might be able to catch a leprechaun, even if it is just for a little while. Leprechauns do come out of their hiding places to celebrate St. Patrick's Day because it is their favorite holiday, so by following the instructions below carefully, you might get lucky.
Make a leprechaun trap (instructions below).
Don't look away once you catch him (leprechauns are good at distracting you), because staring will freeze him in place.
Remember that the leprechaun must grant you three wishes or a gold coin when you catch him.
Don't be too greedy!
Don't let the leprechaun give you any shoes or you will start dancing like silly person and he will get away!
How to Make a Leprechaun Trap
Materials Needed
A cylindrical container (like a Quaker Oats container)
Construction paper or scrapbook paper
Glue
Craft sticks or popsicle sticks or straws
Scissors
Instructions
Cut the paper to fit around the container with about 1/4 inch extra to create a lip at the top. You can color it or paste designs on it that will attract a leprechaun (like rainbows or pot of gold)
Using your craft stick or scissors, poke a hole on opposite sides of the paper at the top of the container. The stick will go through these holes to hold up the trap lid.
Cut out a circular top a little smaller than the circumfrence of the container. Tape the circle to a stick for the trap lid.
Make a ladder from the remaining sticks and glue for the leprechaun to climb.
Put a sign on the side of the trap that says "Do Not Climb!" (Leprechauns are very curious)
Add some gold coins in the trap (they can be gold foil with chocolate inside or some pennies)
Then set up your trap!
Alternative Top for Trap
You can also cut an X in the center of the trap for the leprechaun to fall through.
More Leprechaun Trap Ideas
Free Printable Flyers for Catching a Leprechaun
Adorable Leprechaun Trap Video
Pinterest Party St. Patrick's Day Blog Hop
This post is part of the Pinterest Party St. Patrick's Day Blog Hop. The Pinterest Party is a group that helps people grow their Pinterest following. Find other posts in this blog hop below:
Feb 18 Paula Atwell  How to Catch a Leprechaun (me)
Feb 19 Jennifer Dickison Shamrock Craft for Kids – Bleeding Art Tissue Paper
Feb 20 Corrinna Johnson Rainbow In A Jar | Free Rainbow Printables
Feb 21 Elyn MacInnis   Celtic Knot Cookies – perfect for a St. Patrick's Day tea!
Feb 23 Mamta Motiyani Lucky Irish Four-Leaf Clover Free Crochet Pattern
Feb 24 Tracey Boyer St. Patrick's Day Treat – Lemon Glazed Krispie Treats
Feb 26 Ann-Marie Rohe Quick & Easy Grasshopper Brownie Bites
Feb 28 Jessica Peace-Urgelles Old Irish Blessing Printable: St Patrick's Day
Mar 2 Chrisy Gallagher Kostecke  St. Patrick's Day Decorations
Mar 3 Stefany Thode Chocolate Avocado Cupcakes with Avocado Buttercream Frosting
(Visited 1,608 times, 2 visits today)