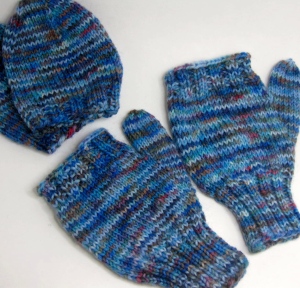 Gloves for Texting
It's hard enough getting some teens or even some adults to wear gloves or mittens. But now instead of having to take off their gloves or mittens to text or play on their phone or tablet, they can wear a pair of these fingerless mitten gloves to stay warm when it's cold outside.
Life is so much easier with these combo mittens/gloves. You can just flip the mitten portion back and your fingertips are free to do any number of manual tasks, not just texting. When you're finished, flip the mitten portion back over your fingers and get back to doing what you were doing while staying warm.
Stay Warm While Typing
If your home or office is on the chilly side, a pair of fingerless mittens keep your fingers free to move as they need to while typing. Unlike fingerless gloves, your fingers are not constrained with these mittens. Get your work done in comfort and style!


High Style Unisex Texting Merino Cashmere Blend Fingerless Gloves Mittens (02, Black, L/XL)
Mitten Gloves Are Great for Shopping and Outdoor Events
These mittens make tasks like getting money or a credit card from your purse or wallet easy. It can be downright annoying to have to whip off your gloves or mitten while still staying warm.
Wear them to football games, bonfires, or any outdoor event where you still need to use your hands while staying warm and toasty.


Hot Shot Men's the Sentry Mittens, Oatmeal, One Size
Stylish Gloves for Texting
Fingerless gloves and mittens come in many styles, like these with beautiful snowflake designs. Choose a pair that will let you keep texting and calling as needed when out in the cold and stay warm this winter.


Women's Black Snowflake Fair Isle Knit Fingerless Flip Mitten Winter Gloves