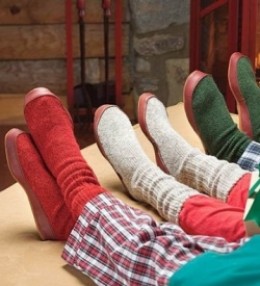 Slipper Socks for Children
Keep your child's feet warm with cozy slipper socks! Children love these colorful slippers because they fit like socks and come in fun prints and designs.
Moms and dads love children's slipper socks because they protect little feet from injury with non-slip soles, as well as from cold drafts. Slipper socks for children keep children safe and warm while playing and relaxing at home, in a style that children love to wear.
My children always preferred this kind of slipper. They are so easy to wear! We found them especially useful if we needed to jump into the car to take someone someplace and drop them off. If kids don't have to get out of the car, why not wear some comfy slippers? It's a lot easier than putting on socks and shoes!
 Two's Company Kids Slipper Socks Christmas SnowmanCheck Price
 Two's Company Kids Slipper Socks Christmas Gingerbread ManCheck Price
 Two's Company Kids Slipper Socks Christmas TreeCheck Price
Slipper Socks for Babies and Toddlers
Babies, toddlers and big kids all love these cute slipper socks! Check out the fun colors and styles! You are sure to find a pair that is destined to become your child's favorite winter house shoe!
Santa Slipper Socks
 Mud Pie Santa Slipper SocksCheck Price
Your toddler will love these adorable Santa slippers for Christmas! They fit children from one to three years.
Rainbow Slipper Socks for Babies and Toddlers
These cozy slipper socks are perfect for keeping your baby's feet warm throughout the cold winter months. They are available in a rainbow or a cow print. Choose from sizes 6 to 12 months, 12 to 18 months or 18 to 24 months.
 Mocc Ons Baby Infant Slipper Socks 12-18 Months Rainbow StripeCheck Price
Baby Girls' Ballet Slipper Socks
 Mud Pie Newborn Baby-Girls Ballet Slipper SocksCheck Price
These cute socks look like ballet slippers. They are perfect for your little ballerina! They fit newborns to twelve months.
(Visited 407 times, 1 visits today)