Using A Reindeer Decoration Or Two For Christmas
I have been noticing that rustic or lodge style decor is pretty prevalent this year for Christmas decorations. I am particularly drawn to the reindeer decorations that I am seeing. I don't know, maybe it is because these wonderful creatures help Santa deliver the gifts every year. Then again, I just really love the actual animal. There really is something magical when you see them in real life. So, I'm thinking that I will probably add a reindeer decoration or two (maybe more) to our Christmas decorating this year.
Reindeer In The Kitchen
One easy place to add a reindeer decoration is my kitchen. The first place I will start is with changing out my dishtowels from the everyday ones to ones with a Christmas theme. I found this set that features reindeer on one towel and a festive red, green and white one.

TAG Woodland 2 Piece Prancing Reindeer Dishtowel Set
I think that I will also get a figurine for the center of my island in the kitchen. I like to place something on there each year and the sleigh statue that I have used the last few years has seen better days. I found a cute reindeer statue that would fit perfectly in the spot that I use.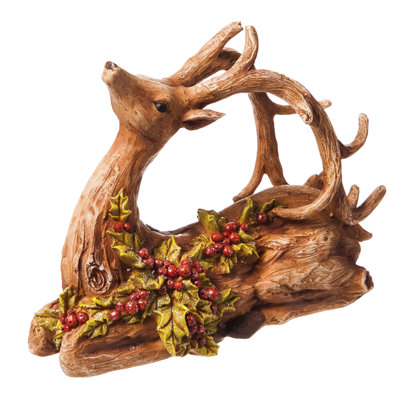 Woodland Reindeer Statuary Christmas Decoration
Reindeer Decoration In The Family Room
Another place that I switch items out to bring Christmas to our home is the family room. The pillows on the sofa and chairs get replaced with Christmas ones. I like the one below because it is reversible and will look festive if someone turns it around. Besides, I'm really into plaid this year for some reason.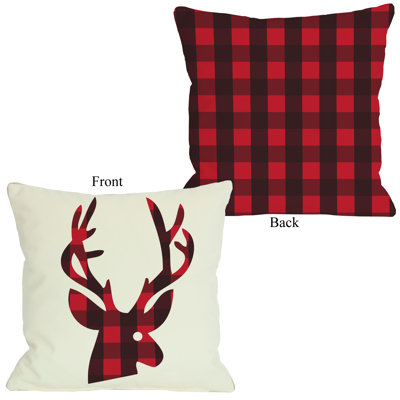 Plaid Reindeer Reversible Pillow Size: 16″ H x 16″ W
For the sofa or love seat, I'll probably also get a Reindeer Christmas Blanket to add to the decor and to have to wrap up in on those cold winter nights.
Reindeer Decoration Fits In All Rooms
When you think about it, you can add a reindeer decoration into just about any room in the house. It is really easy to place a couple of ornaments on your tree (or in my case trees!). The bathroom could have some hand towels with reindeer on them or a figure on the vanity. If you have a fireplace, placing a reindeer decoration in the center surrounded by greenery would make for a nice display. The dining room can have a centerpiece using the favored deer by Santa Claus. Bedrooms can have figurines, pillows, comforters or even a print on the wall.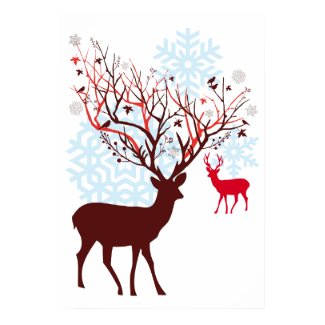 Christmas Deer with tree branch antlers Print
on Zazzle
I have picked the more rustic styled reindeer items but you are not limited to those. There are whimsical choices along with very elegant options. Reindeer decorations come in just about any style that you prefer. You do want to make sure that you follow your tastes in decorating. A rustic deer placed in an elegant styled room will look out of place so have some fun looking for items that will fit with your style and have some fun.
Did you know?
Reindeer really do exist in the wild. They may or may not have magical powers that allow them to fly on Christmas Eve but they are really a pretty awesome creature. In North America they are also known as caribou. They only live in the extreme northern parts of our world. Both the male and female have antlers but the male usually has a larger display.
Reindeer hooves change during the season of the year. In the summer when the ground is soft their footpads become almost sponge-like so that they have better traction. During the winter those pads shrink and tighten exposing more of the hoof that is sharp. This allows them to dig into the ice and snow so that they do not slip. It also allows the reindeer to use their hooves to dig deep into the snow to find food.
I have had fun shopping for some new decorations for our Christmas this year and am definitely adding reindeer to the theme this year. How about you? Will you be using any reindeer decorations for Christmas?
(Visited 66 times, 1 visits today)