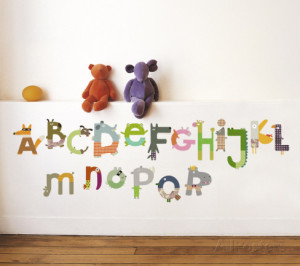 If you are decorating a child's bedroom, playroom, or a school classroom, one of the most essential decorations to consider is an alphabet chart or alphabet poster. Alphabet charts come in many decorative styles, as well as educational styles, including phonetic alphabet, and picture alphabet.
Any of the prints and posters shown on this page can be ordered with or without a frame, and there are several really lovely and fun wall decals using the alphabet as the primary decoration. These can be put up and taken down with minimal work or fuss. To see more information on each item, or to see them with frames, just click through the links underneath the picture.
Featured: Animals Alphabet Wall Decal
Alphabet Zoo Print
Jenn Ski
Alphabet Zoo Chart by Jenn Ski
This art print displays sharp, vivid images with a high degree of color accuracy. A member of the versatile family of art prints, this high-quality reproduction represents the best of both worlds: quality and affordability. Art prints are created on paper similar to that of a postcard or greeting card using a digital or offset lithography press.
Disney Babies: Alphabet Blocks Walt Disney Poster Print

Disney Babies: Alphabet Blocks Walt Disney Poster Print
Rainbow Alphabet Print
Available in several colors
This premium giclée print, an upgrade from the standard giclée print, is produced on thick (310 gsm), textured watercolor paper made from alpha cellulous wood pulp that is acid free. It shares the same vivid colors, accuracy, and exceptional resolution that make giclée prints the standard for museums and galleries around the world. Giclée (French for "to spray") is a printing process where millions of ink droplets are sprayed onto a high-quality paper. The smooth transitions of color gradients make giclée prints appear much more realistic than other prints.
Patchwork Quilt Alphabet Chart
Claire Beaton
This fine art print is produced using sustainable and environmentally friendly practices, according to the international ISO14001 Environmental Management standard. The detailed proofing process and standardized printing plates of offset lithography ensure this print reproduction maintains vivid colors and faithfulness to the original work of art.
Learn the Alphabet Chart
Gardener's Alphabet Poster Print

Gardener's Alphabet Poster Print
Cute Animal Alphabet Poster

Cute Alphabet with Illustrations
C is for Cat Premium Print
One in a series
This C is for Cat Animal Print is just one in an alphabet series. You can buy each letter and frame them as a set or individually, or you can also just buy the letters that you want.
Victorian Alphabet Jingle Poster
Click here to purchase the Victorian Alphabet Jingle Poster
This premium poster is a reproduction printed on premium grade poster paper, which is far thicker than standard poster paper. With brilliant color and a high level of detail, premium posters are an excellent option for the value seeker as well as for seasonal décor.
The Alphabet
Frances Wainwright

Click here to purchase The Alphabet by Francis Wainwright
Animal Alphabet Chart

Click here to purchase Animal Alphabet
Folk Alphabet Animals Series
Sophie Harding

Click here to purchase Alphabet Animals by Sophie Harding
Awesome Alphabet Wall Decal

Click here to purchase Alphabet Wall Decal
This wonderful set of wall decals can be used in any room on the wall or window. Great for a bedroom, playroom or schoolroom. Bright and cheerful!
Make $$$
Hey Webmasters – Make $$$
The AllPosters.com Affiliates Program is a great way to make money with your website. Link to AllPosters.com and earn 20% of every purchase made by your site visitors at their website. If the visitor decides to purchase within 10 days of their last visit from your website, you'll still earn commission on the sale! You can link to AllPosters.com from a selection of over hundreds of thousands poster and art print images as well as poster stores and mini stores. They have posters related to just about everything (e.g. movies, music, sports, art, animals) so no matter what the content of your site is, you will find images that are a good fit. It's easy to sign-up, track your sales, and build links because the site generates all the HTML code for you.
(Visited 404 times, 1 visits today)