Everything You Need to Make Gift Baskets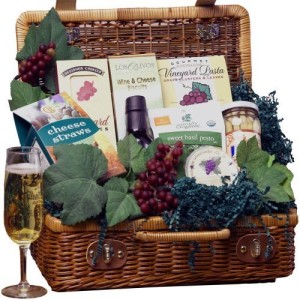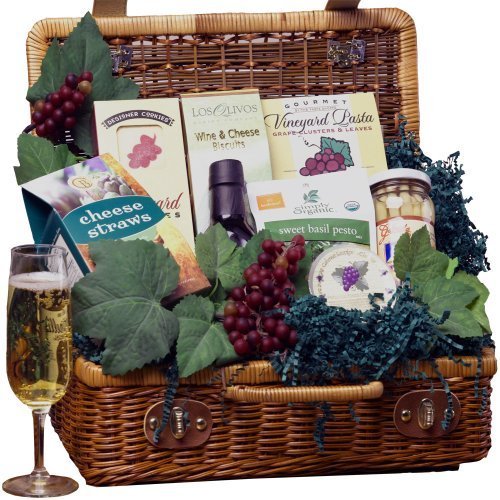 A gift basket makes a showy gift for Christmas, a birthday, retirement or other occasion. It pulls together a variety of smaller gifts and presents them in an attractive manner.
You'll need some basic supplies to put together an impressive gift basket to properly showcase the gifts in it.
In addition, I'm including lots of theme ideas for gift baskets. These will get you started on your shopping and gift giving without even having to leave home.
Featured: Art of Appreciation Gift Baskets That's Amore Romantic Italian Dinner For Two Picnic Hamper
All the basics you need for making your own gift basket
 The Perfect Basket: How to Make a Fabulous Gift Basket for Any OccasionCheck Price Quickway Imports Rectangular Willow Basket with White Fabric LiningCheck Price 1 Bag of White Crinkle Cut Paper Shred for Gift Packaging Wrap Basket Filling party suppliesCheck Price Hygloss 71502 Cello Gift Wrap Roll, 20-Inch by 12.5-Feet, RedCheck Price Six Satin Rose / Flower, Ribbon Gift / Craft Bows, Printed, 2.75Check Price Morex Ribbon Swirl Wired Sheer Glitter Ribbon, 2-1/2-Inch by 50-Yard Spool, Red/GoldCheck Price
The Perfect Gift Basket – How to Make Your Own
Book available from Amazon
 The Perfect Basket: How to Make a Fabulous Gift Basket for Any OccasionCheck Price
More books on how to make your own gift baskets
 Decorating Gift Baskets: 35 Projects to Make Plus Ideas to Inspire for Baskets, Boxes, and MoreCheck Price Gift Basket Themes and IdeasCheck Price Jazzy Gift Baskets: Making & Decorating Glorious PresentsCheck Price Over 250 Gift Basket IdeasCheck Price 101 Fantastic Gift Basket IdeasCheck Price How to Make Valentine's Day Gift Baskets (Gift Ideas Book 4)Check Price
Find a Basket for the Gifts
You may have one already around the house
 Badger Basket Three Basket Set, PinkCheck Price Quickway Imports QI003055.WF Oval Willow Basket with Double Drop Down HandlesCheck Price Wald Imports 14.8-Inch Rectangular Woodchip BasketCheck Price Quickway Imports Oval Willow Basket with Red White Plaid Lining and HandlesCheck Price
Shredded Filler for Gift Baskets
 Shredded Paper – Red (1) Party SuppliesCheck Price
Tips from a Gift Basket Professional
Filling the basket, bagging it and decorating with a bow
Pull Bows Like the Video Demonstrated
There are different colors to choose from on Amazon
This is a box of 50 metallic gold pull bows. They ship flat and are individually wrapped. Top quality 1-1/4″ wide ribbon material. When you pull the 2 string tabs, the bow forms with 2 long tie-on tails for you package. This is a great bow for a great price.
 5″ Metallic Gold Pull Bows – Case of 50Check Price
Get Organza Ribbon to Tie the Gift Basket
It comes in many colors
 Sheer Organza Ribbon 25 Yard Roll 7/8Check Price
Make Pretty Bows for the Gift Baskets
 Creative Bows Made Easy: Perfect Bows for All Your Crafts and GiftwrapCheck Price Tulle Roll 6Check Price Darice BOW1003 Bowdabra Bow Maker and Craft ToolCheck Price The Complete Photo Guide to Ribbon Crafts: *All You Need to Know to Craft with Ribbon *The Essential Reference for Novice and Expert Ribbon Crafters *Packed … Instructions for Over 100 ProjectsCheck Price
Lots of Tulle to Decorate the Gift Basket
 *SALE* 9 GLITTER Tulle Rolls each one 6Check Price
Cellophane Wrap for Gift Baskets
 30 in. x 100 ft. Sparkle Wrap Clear Cellophane Wrap Roll Pkg/1Check Price
Alternative ideas for gift baskets
 Craft Outlet Tin Pail, 6 by 7-Inch, BlackCheck Price Mini Metal Buckets,Pack of 12Check Price Set of 3 Rustic Bird Themed Decorative PailsCheck Price Craft Outlet Tin Pail, 6 by 7-Inch, Barn RedCheck Price
Ideas for Gift Baskets for Different Professions
Firefighters, Pastors, Teachers, Business Owners, Corporate Clients, etc.
Gift Baskets for All Ages
Gift Basket Ideas – Food and Drink
You can substitute a decorated box or a handy tote bag for the basket. Fill it with goodies to give.
Other Gift Basket Themes
Movie Night, Unusual Theme Baskets, Book Lovers, Fitness, Pet Pampering
Gift Baskets for Women and Girls
(Visited 690 times, 1 visits today)